MARTIAL ARTS PROGRAM

Carlson Gracie Boca Raton isn't just a safe, clean and fun environment to learn jiu jitsu… It's a FAMILY!
At Carlson Gracie Boca Raton, we take pride in the fact that our students not only obtain the knowledge they need to progress in the sport of Brazilian jiu jitsu – but get to do so in a fun and family-like atmosphere! The instructors are dedicated to helping people of all ages and skill levels learn "The Gentle Art". Whether you are training for fun, like to compete, as a hobby or just looking for a new way to stay fit, Carlson Gracie Boca Raton could be the best fit for you.
Come in and try any or all of our world class programs for one week FREE. We proudly offer world-renowned instruction in the art of Brazilian Jiu-Jitsu (Gi) and submission grappling (No Gi). We have classes for Kids, Beginners, Intermediates, and Competition as well as courses in self defense and private instruction.
Ours is a wholesome and fun programs are designed for the entire family and for individuals who seek a positive and supportive environment. Our programs include lessons in life skills, anti-bullying, physical fitness, and body control.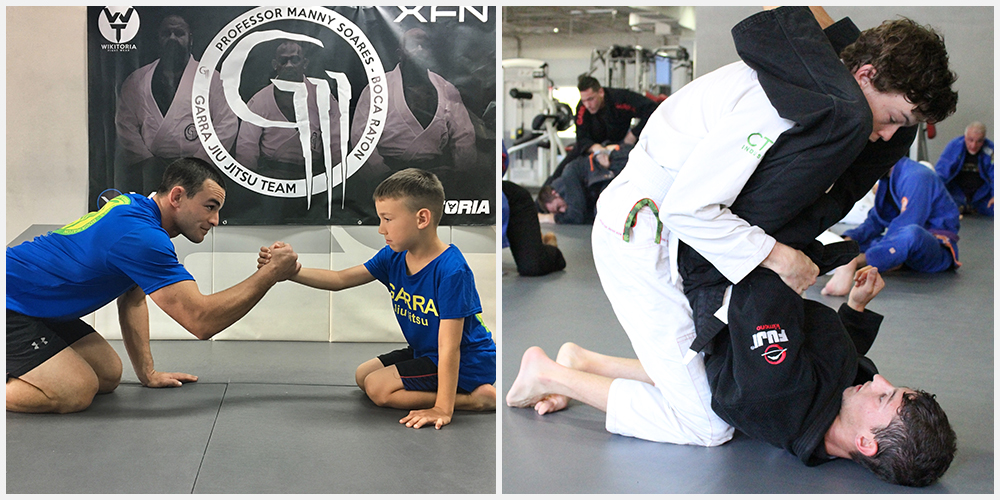 MARTIAL ARTS CLASS SCHEDULE
Feb
23
Sat
Open Mat Jiu Jitsu
Feb 23 @ 11:00 am – 12:30 pm
Manny Soares
Manny started BJJ in 1993 under former UFC fighter, Marcus Aurelio in Fortaleza, Brazil. Quickly advancing, Manny earned his blue belt in just a few months and before too long, he started teaching classes as he chased his goal to become a professional MMA fighter. In 2004, with some professional fights under his belt, he received his black belt in Brazilian Jiu Jitsu and since then, he's dedicated his life to the art and to the sport – continuing to fight MMA along the way. Manny has built successful programs all over South Florida – first for a few American Top Team affiliates, and then for himself when he opened Manoel Soares American Fight Team. It was a year after building his school that the Blackzilians made an offer to buy his school and now, with MMA in the rearview mirror – Manny can focus 100% on his students as the head instructor of Carlson Gracie Boca Raton.
Shawn
Shawn's journey to becoming a black belt in Brazilian Jiu Jitsu has been a long one – with plenty of stops along the way. Trying his hand at karate, high school wrestling and tae kwon do along the way – he ended up in the fast-paced, high profile world of professional wrestling. While professional wrestling was fun – it didn't quench the competitive fire inside. Then he discovered Brazilian Jiu Jitsu. BJJ quickly became a passion and he put 100% of his energy into learning as much as he could. His dedication would pay off, as after 8 years, a lot of mat time and a World Championship at Brown Belt – Shawn received his black belt in 2014 under Master Manoel Soares.

2012 – IBJJF Miami Open – 1st Place – UltraHeavy and Open Weight Purple Belt
2013 – IBJJF Miami Open – 1st Place – UltraHeavy – Brown Belt
2014 – IBJJF Boca Open – 1st Place – UltraHeavy – Brown Belt
2014 – IBJJF Miami Open – 1st Place – UltraHeavy – Brown Belt
2014 – IBJJF Masters World Championship – 1st Place – UltraHeavy – Brown Belt
2016 – IBJJF Miami Spring Open – 1st Place – Ultraheavy – Black Belt
2016 – IBJJF Miami Fall Open – 1st Place – Ultraheavy – Black Belt
2017 – IBJJF Miami Spring Open – 3rd Place – Ultraheavy – Black Belt (pulled out due to injury)